KELOWNA AUTOMOTIVE AIR CONDITIONING SERVICE
A

BETTER

 TYPE OF AUTOMOTIVE AIR CONDITIONING SERVICE
Our mobile automotive air conditioning service uses the latest tools and technology to provide you with the best service. Our highly skilled technicians proactively detect any leaks in your AC system using specialized tools such as UV dye detection and nitrogen pressure testing, saving you time and money on expensive repairs in the future.
We use a dedicated vacuum hose, a dual-stage pump, and a micron gauge to quickly and accurately remove moisture during vacuuming. Ensuring that all moisture is effectively removed from your AC system. Additionally, we never use contaminated AC evacuation and recharge machines or store-bought cans. We only refill your system with fresh R134a refrigerant that meets industry standards.
CONVENIENCE
At our service, we prioritize quality and efficiency and understand that your time is valuable. That's why we provide on-site services, saving you from having to wait around in a shop. With just one phone call, our team can come to your location, ready to provide you with the best auto AC service available.
So why wait? Book an appointment today and experience the convenience and quality of our mobile auto AC service. Don't let a malfunctioning AC system ruin your day. Contact us now and let us take care of the rest.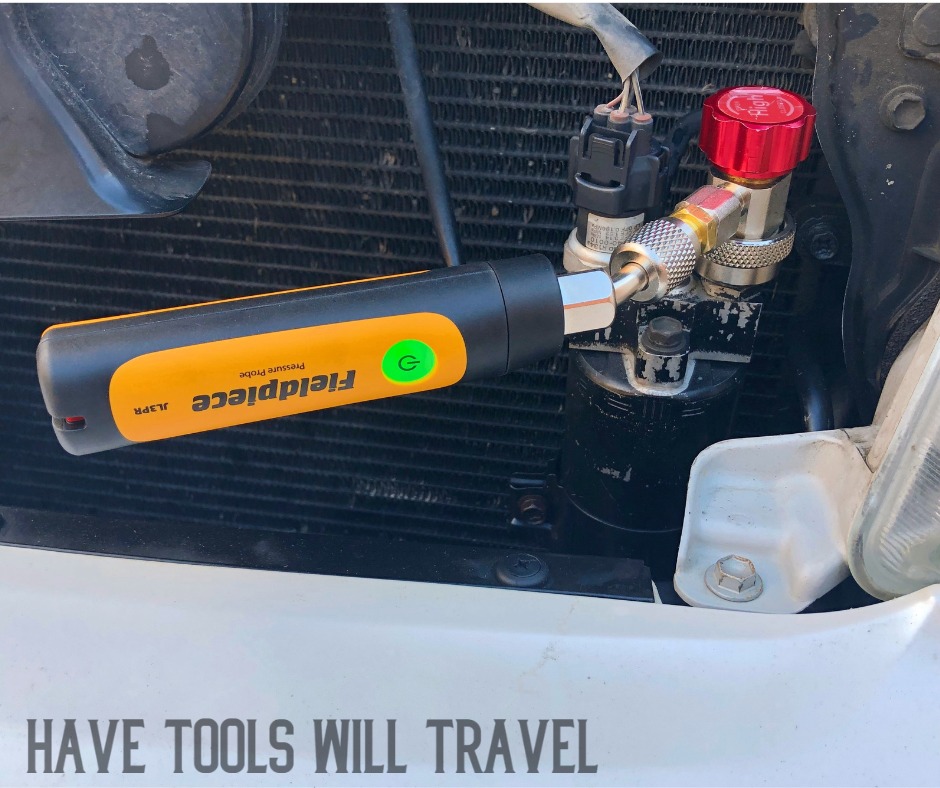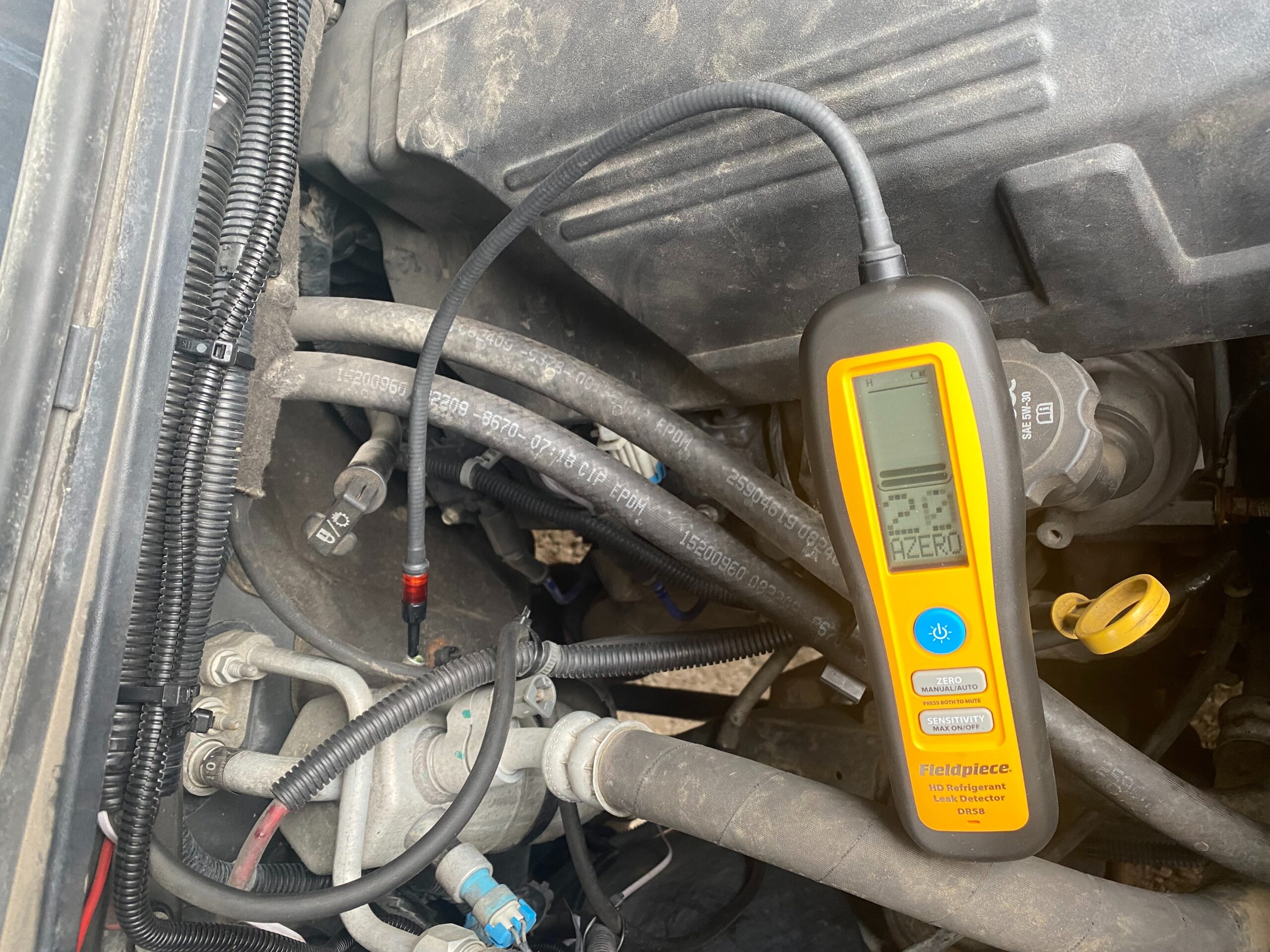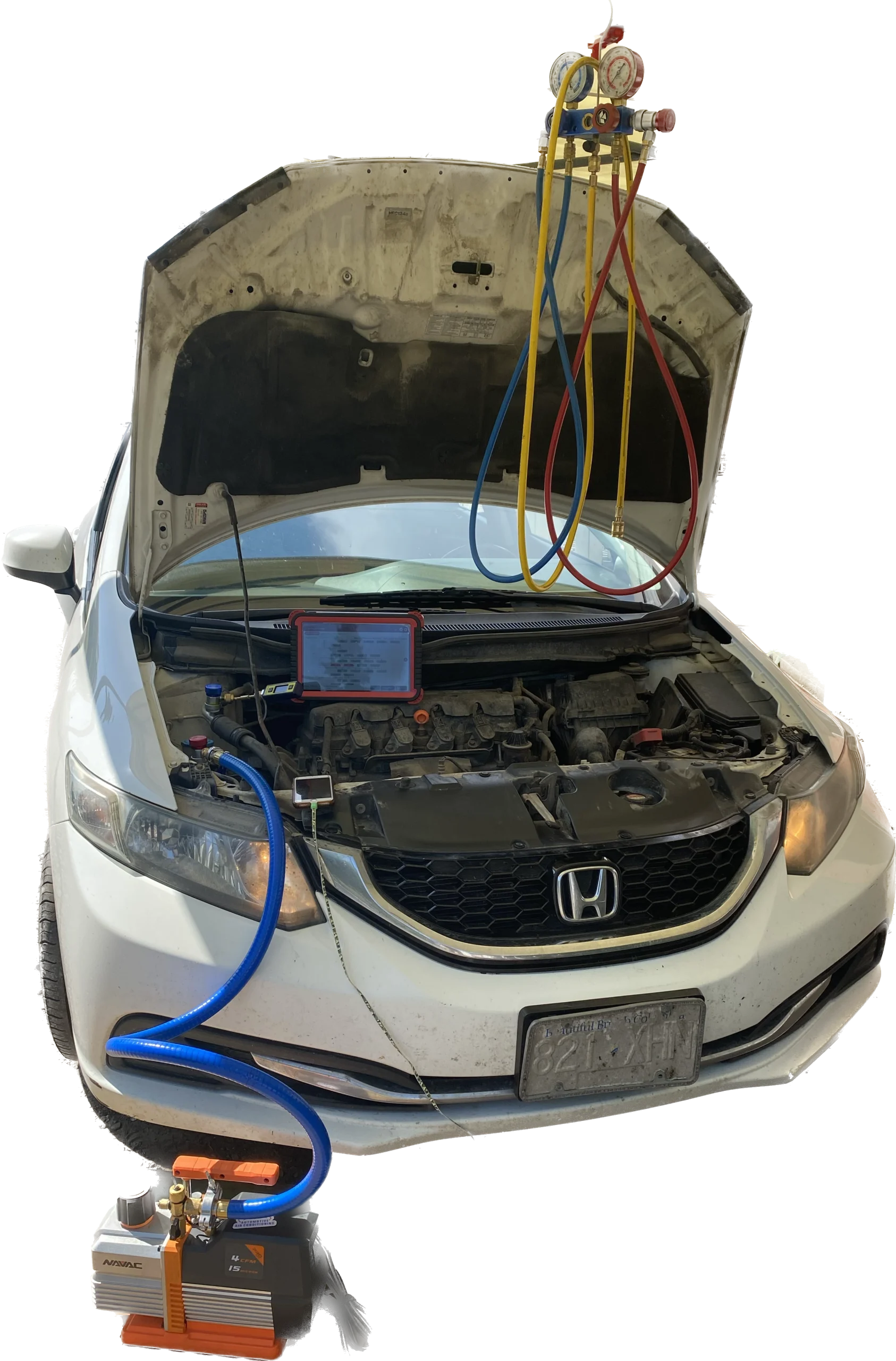 WHY ISN'T

YOUR A/C

 

WORKING?
There could be several reasons why your car's air conditioning system is not working, including:
Low refrigerant levels:

Your AC system requires a specific amount of refrigerant to function correctly. If the refrigerant level is low, it could indicate a leak in the system.
Electrical issues: Problems with the electrical components, such as a faulty compressor clutch or a blown fuse, can prevent the AC system from working correctly.

Malfunctioning compressor:

The compressor is the heart of the AC system and is responsible for circulating the refrigerant throughout the system. If the compressor fails, the AC system won't function correctly.

Blocked or dirty condenser:

The condenser is responsible for releasing the heat absorbed by the refrigerant. If the condenser is dirty or blocked, it can prevent the AC system from cooling correctly.

Clogged expansion valve:

The expansion valve controls the amount of refrigerant that flows through the evaporator. If the valve is clogged, it can prevent the AC system from cooling effectively.
HOW WE

SOLVE

 THE PROBLEM:
Have Tools Will Travel uses top-of-the-line equipment that will evaluate the condition of your refrigerant. We detect any potentially hazardous sealant, mixed refrigerant, or excess moisture that may be compromising your air conditioning system.
We use a sensitive refrigerant leak detector to check for leaks in hard-to-reach areas such as the evaporator, condenser, and AC compressor shaft. During the vacuum process, we use a digital micron gauge. It accurately shows the amount of moisture in the system, ensuring that your AC system is ready to be refilled.
Don't let a faulty air conditioning system ruin your driving experience. Call us today to schedule service and let us diagnose and repair any issues with your car's AC system. You deserve to ride in comfort and style, and we're here to make that happen for you.