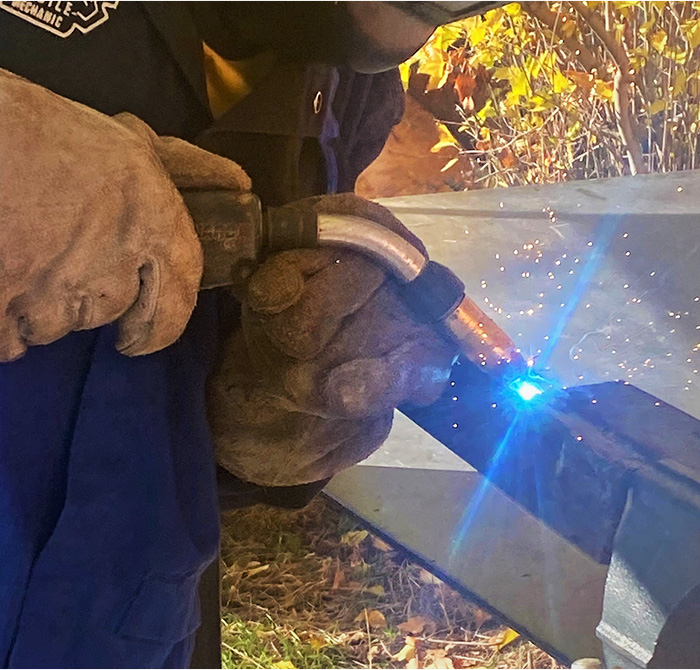 MOBILE MIG WELDING SERVICES WE OFFER

Looking for a reliable mobile MIG welding and light fabrication service in Kelowna? Look no further! Our team offers 100% duty cycle to ensure uninterrupted work, completing your job quickly and efficiently. Whether you want us to come to your location or you prefer to bring your project to our home shop, we've got you covered.
We specialize in MIG welding, a versatile process used in many applications, including cars, trucks, and equipment. Our experience has allowed us to complete numerous projects, including custom welds on off-road vehicles and classic car repairs. We take pride in bringing your welding dreams to life. With over 10 years of experience, we deliver fast and effective solutions for your welding needs.
But that's not all we do. We also specialize in 4×4 modification and light fabrication. Do you need a custom bike rack or a unique BBQ for your backyard? We've got you covered! We've fabricated a wide range of things such as shop benches, kitchen shelves, and more. With our extensive experience and attention to detail, we can create whatever you have in mind.
So, whether you have a small welding job or a large project, our team is here to help. Contact us today to discuss your project and see how we can provide you with top-quality welding and fabrication services. Let us bring your vision to life! This is the kind of mobile MIG welding service you won't find anywhere else in Kelowna.
WHAT IS MIG WELDING?
MIG welding, or Gas Metal Arc Welding (GMAW), is a welding process that uses a spool of metal wire as an electrode and an inert gas to protect the weld pool from atmospheric contamination. The wire is heated and melted by an electric arc. Which then creates a weld bead that fuses two pieces of metal together.
MIG welding is a popular and versatile welding method. Used in various industries due to its speed, ease of use, and versatility. It is particularly popular in the automotive and fabrication industries. Where it is used to join metal sheets and plates, body panels, and create custom parts and structures.
One of the advantages of MIG welding is its fast and efficient welding process. Additionally, MIG welding produces high-quality welds with good penetration and minimal splatter, resulting in less post-weld cleanup.
MIG welding's versatility is one of its biggest benefits. It can be used for various applications, such as creating custom welds on off-road vehicles or modifying classic cars.
Overall, MIG welding is a popular and effective welding method. Offering many benefits, including speed, ease of use, versatility, and high-quality welds.